If you didn't get the title reference, we can't be friends anymore. Sorry. Relationship over. Just kidding! You didn't think you could escape so soon, did you?
If you haven't read the book by Paulo Coelho though (the actual title is By the River Piedra I Sat Down and Wept), I highly, highly recommend it. Like all of Coelho's other books, it is so incredibly philosophical and poetic, my brain wanted to oscillate between happy dancing and complete meltdowns while reading it.
But I digress. Today, we are going near the River Walk, where restaurant is followed by restaurant is followed by restaurant. Choices. Choices. Choices. I know, it is all so completely delicious, we just can't pick one. So I have chosen two River Walk restuarants for us to visit. First, we are going to grab some brunch then some dinner. Ready?
MI TIERRA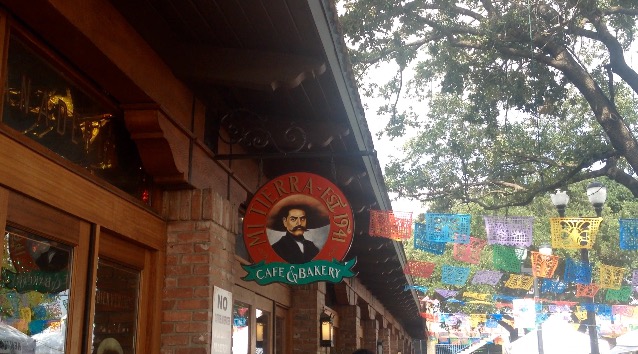 Our first meal is at Mi Tierra – a delightful restaurant and bar and bakery in Historic Market Square, which isn't located that far from the River Walk. We'll work up our appetite walking there.
The restaurant is a feast for the senses. So many colors. So much decor. So many smells. The sweet scent of fresh baked pastries is enough to drive a sane girl to gone girl status. As we enter, we look up to see a ceiling filled up to the brim with golden pinatas (at least, I think they are pinatas) hanging down gently against the dim light.
As we are led to an open seat by a friendly young waitress, we notice plaques across the walls. They are framed newspaper clippings. Mi Tierra has served multiple celebrities and presidents. Suddenly, we begin to feel very special.
In the tables surrounding us, we see families, tourists, couples, and even some solo travellers. This is an experience for everyone. And the tourism is well-deserved. Around us, from every angle, there are gorgeous hand-painted murals. Most of farmers and traditional Mexican women. One mural, in an adjoining room, scales a full wall and features famous Latino figures. The detail is impeccable.
Yet, despite its seemingly extravagant interior, Mi Tierra has managed to stay true to its humble origins as a small-three table cafe in 1941. Red and green papel picado are strung in parallel lines across some of the rooms. In fact, the same colors, red, green, and white, are the theme for the entire restaurant – showing up everywhere from the lights to the walls to the waitresses' dresses. While it looks like one giant Christmas party, these colors are actually part of the Mexican flag and an ode to the restaurant's origins.
The restaurant serves traditional Tex Mex, a subtle blend of Mexican and Southern cooking. Just to get the full experience, we order a Mi Tierra Special Breakfast. Eggs. Refried Beans. Tortillas. Carnes de Res Guisado.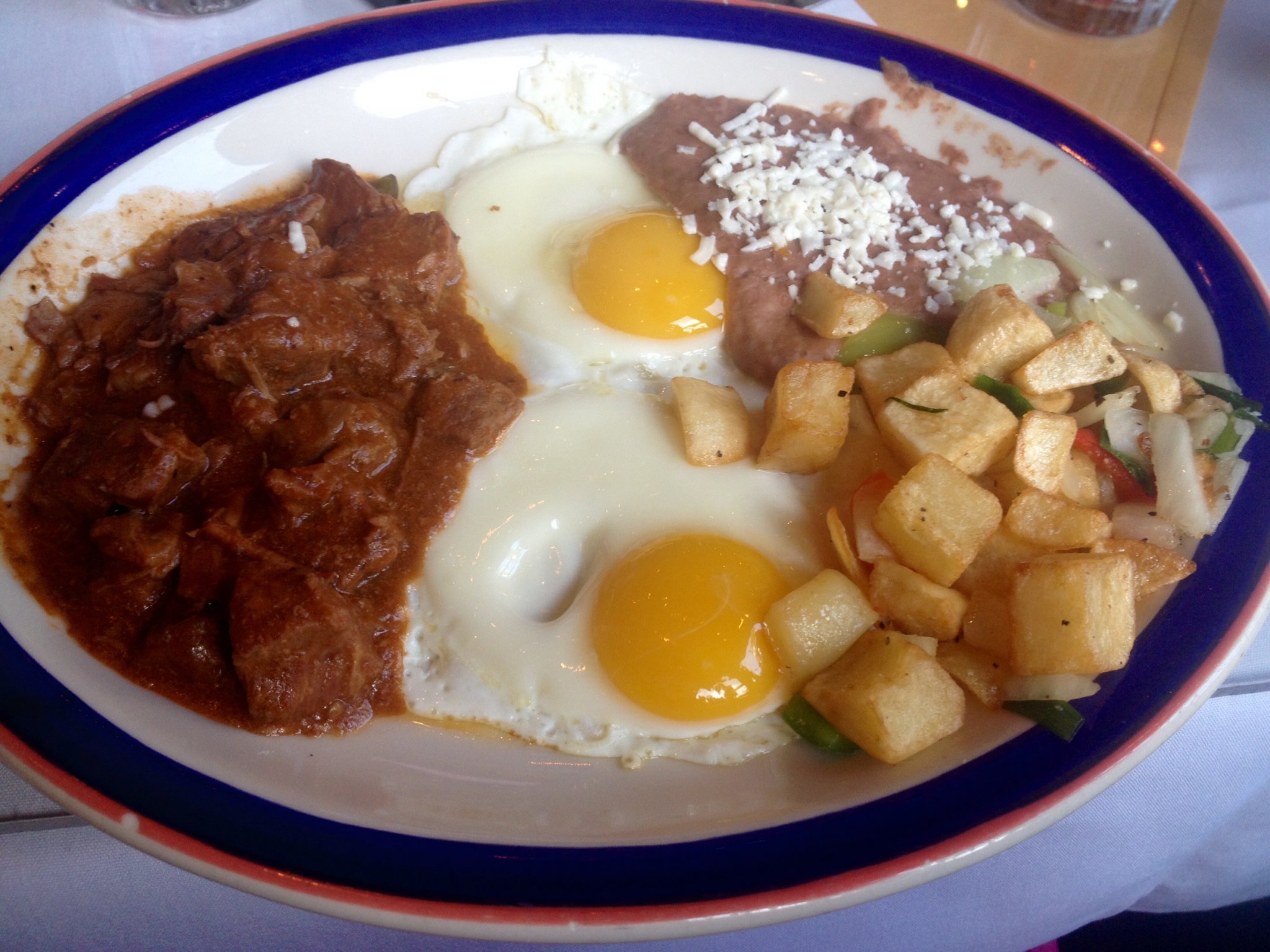 I feel like Pavlov's dog as I'm typing this. The tortillas are buttered and airy. The beans, well salted, are smooth and slightly creamy. And the taste of the beef isn't muted or overpowered by the flavour of the tomatoes or peppers.
We don't want to leave and decide to stay a little longer. Let's try a Mexican hot chocolate while we are here because why not?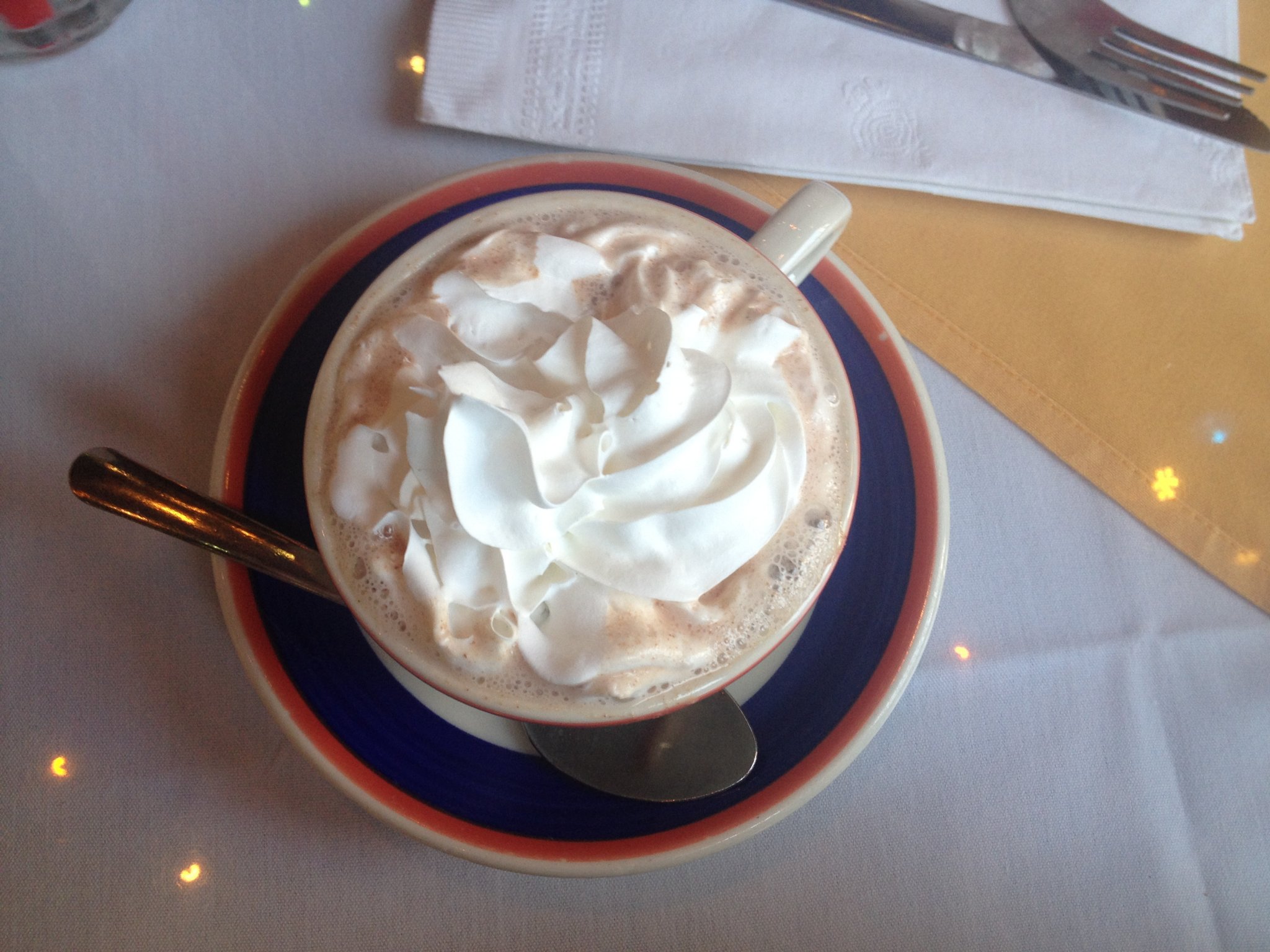 The drink is light and frothy (an essential aspect of this staple since the 1950s). The hot chocolate is a wonderful mixture of Mexican cacao beans and cinnamon and honestly one of the best I've had.
But sadly, our time in Mi Tierra has come to an end, and we have to leave. Are you still hungry? Because we have one more stop.
CASA RIO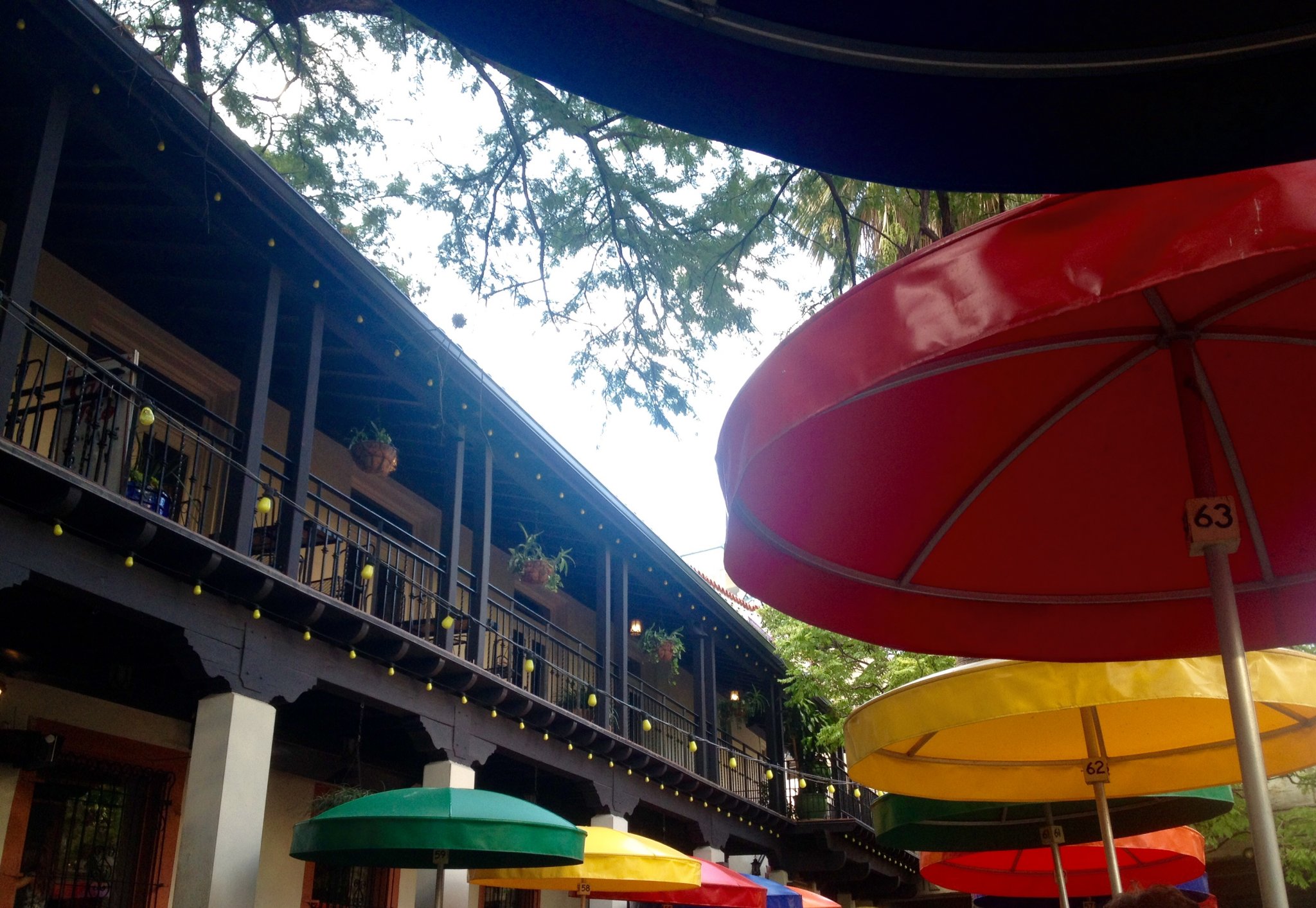 The weather is hot, the air is dry, and it's loud and crowded, but we will bear it all because Casa Rio has the most gorgeous umbrellas in their outdoor restaurant. The colours are plucked fresh off the rainbow. Orange. Blue. Red. Yellow. Green. The sequence extends until the umbrellas seem to be just little dots of colour floating in the distance.
I'm serious, this is colourful and lively enough to be the background of a Bollywood film.
And the view is amazing. Did I mention that?
We sit down at a small table and look over at the water. Baby ducks waddle around after their mother (who doesn't love baby ducks?). A river boat gently cruises by and we can hear snippets of the tour guide's speech.
"To your right is Casa Rio," the guide says. He sways his hand in our direction and waves. "This 1946 establishment is the oldest restaurant on the River Walk."
The waitress comes over, smiles, and serves us some chips and salsa as a starter. We take a bite and enjoy the view. A mariachi band strolls past us and starts singing to a young couple celebrating their anniversary.
Tip: The Mariachi Band Costs $20. But unless you are looking for a personal concert, someone at some table while you are there will probably indulge in this little luxury. So you will still get to hear them and probably see them.
The rhythmic strum of the guitar and the trio's loud, rich voices carry over. The song is pleasant and sonorous and upbeat and the Spanish lyrics flow smoothly across the space. You can't help but smile.
The food arrives. First up, a small bowl of chili con queso. It's salty and the meat is dry. But no matter, let's try again. Enchiladas, anyone? No. The food is still salty and cold and tough.
Okay, for a restaurant…the food isn't too amazing. I'll admit it. But I chose it for a reason.
How often do you get to eat a piece of history? Casa Rio is a family restaurant that has been around since the River Walk became well, the River Walk.
And if it's any consolation, they have really good Virgin drinks. Their pina coladas are so spot on and refreshing, it completely makes up for the lack of food.
Maybe we ordered the wrong thing and there is a "wow" item on the menu. Maybe the food just isn't great. But as the sun sets and we look over the river and then down the path, we see a view that is unforgettable and we know we are in the right place.
Know any more out of this world restaurants in San Antonio? Share in the comments down below. I would love to know them all!